A Little Bit of History...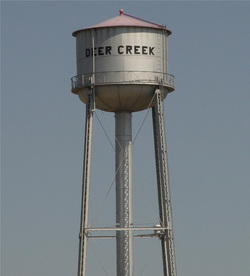 Deer Creek was founded in 1830. Major R. N. Cullom christened it and named the township Deer Creek. Major Cullom later became the township's first supervisor.
Deer Creek received its name from the creek that ran through the northwest part of the township and from the herd of red deer that roamed the woods and came to the creek for water.
In the late 1830s, Abraham Chaffer started the first business in Deer Creek at Chaffer's Corner. Mr. Chaffer's store was located in the center of Deer Creek Township and was used as the post office, the office of Dr. W. A. Cory, as well as his own business of selling drugs, dry goods and groceries.
In 1835 the first school was opened in the home of Edward O. Durham and was taught by Nancy Parker. In 1881 the first town hall was built.
Deer Creek's location has moved three times since the 1830s-from Chaffer's Corner to New Castle, from New Castle to Belmont and from Belmont to the present site of Village of Deer Creek.
More on Deer Creek's history can be found in VOL. II HISTORY OF DEER CREEK which is available at the Deer Creek District Library, Morton and Washington, Illinois libraries and at the Tazewell County Genealogy Society Library in Pekin, Illinois.
---